HealthScience experts from the Oxford PharmaGenesis Patient Engagement team attended the 2018 Patient Summit Europe in London (16–17 October), which brought together pharma stakeholders, patients and patient advocates. Several key take-home messages emerged from the sessions.
Many pharma companies are developing and implementing systematic, strategic approaches to patient engagement. Key performance indicators (KPIs) are being developed to provide tangible measures of the value of patient engagement, as showcased by Oleksandr Gorbenko (ViiV Healthcare). Isabelle Bocher-Pianka (Ipsen), Daniel De Schryver (Janssen) and Lars Joensson (Grünenthal) all presented examples of approaches taken to bring patient engagement into practice via shifts in their respective organizational models. Tailored patient-reported outcomes (PROs) are being developed that integrate patient insights to create rigorous tools that measure symptoms that are relevant and matter to patients, and to support market access (e.g. Psoriasis Symptoms and Signs Diary [PSSD], described by Chenglong Han, Janssen).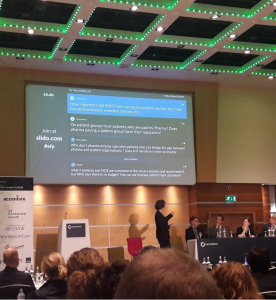 On this topic, lively roundtable and panel discussions noted that patient engagement must be inculcated in pharma company culture from the top down. Hesitancy and internal regulatory barriers are still apparent in many companies, despite best intentions. Nevertheless, time will soon show the benefits and value of the many ongoing projects, initiatives and changes!
We should be thinking more broadly than patient engagement itself – considering the wider patient experience is crucial to understanding the patient and their individual insights. Patient engagement is the way to understand the patient experience. As detailed by Clare Moloney (IQVIA) and reinforced by comments from patient advocates themselves throughout the meeting, context is key. A deeper and wider understanding of the patient experience – which includes people, their behaviour and broader social situations – is fundamental to help meet patients' needs effectively, such as through the development of adaptive and smart patient support programmes to improve adherence or identify areas of unmet need.
Patient organizations and groups play a pivotal role in collaborative approaches with pharma to build trust with patients and to improve outcomes for pharma. Several examples of great practice were presented during the meeting.
However, the roundtable and panel discussions tackled some of the challenges faced by all sides when gathering insights from patient advocates and organizations. In a roundtable hosted by Oxford PharmaGenesis, it was flagged that the type of insights elicited by pharma from patient advocates and organizations can have limitations. Patient advocates provide an expert view on their condition and treatment but may not be representative of the wider patient community by virtue of this; in addition, the administrative load and expectations of patient advocates by pharma can be high and burdensome. Patient organizations are widely representative of the patient community, but many patients remain unaware or disengaged with representative organizations, and some are distrustful of pharma.
Good communication, reimbursement and support for patient advocates and organizations can overcome hurdles and limitations to fully engaging patients. A need for clear regulatory guidelines was also highlighted by all parties to help to overcome internal pharma regulatory barriers. Wider patient insights, such as from real-world evidence and digital channels, would help to optimize the value of patient insights for all stakeholders.
In a welcome first for the event, the patient-designed and patient-led Im-Patient conference provided a series of impactful and superb presentations during the second morning session, which put patients firmly in the driving seat.
Some of the 1600 patient-devised innovations that have been submitted to the open online Patient Innovation platform were presented by Pedro Oliveira (Copenhagen Business School). Fantastic solutions that have been specifically created by patients or caregivers to meet the unmet needs of patients were described in several engaging presentations. Lise Pape (Walk With Path) described a visual cueing shoe attachment she has developed for people with Parkinson's disease. Dom Raban (Xploro) discussed an augmented reality app that helps deliver health information directly to children who are visiting hospital or undergoing treatments, which was inspired by his daughter's experience of treatment for bone cancer. Emma Lawton (Parkinson's UK) shared her journey from video blogging about her condition to setting up a support platform for people with Parkinson's disease. Andrew Warrington provided his unique perspective of living with type 1 diabetes, set in the context of flying a plane, to describe first-hand how the development of a technical solution to controlling blood sugar levels has improved his quality of life and allowed him to "fly on autopilot with less fear of crashing".
Efforts to improve outcomes for patients are ongoing and broadening throughout pharma, with a shift-change from discussing how patient engagement can be a benefit, to demonstrating examples of how this has been done successfully and measurably.