It's hard to believe that it's only 12 months since Oxford PharmaGenesis officially launched its Patient Engagement Practice at the 2016 eyeforpharma Patient Summit.
Fast-forward a year and we were excited to be at the 2017 Patient Summit, which took place in London on 19–20 October. Among the approximately 200 attendees were senior pharmaceutical company executives, representatives from patient groups and patients themselves.
Richard White, our Commercial Director, led a panel discussion on co-creation: 'Listen, learn, implement, repeat – effective ways to partner with patients'; also on the panel, representing patient organizations and the pharmaceutical industry, were:
Claire Murray – Joint Head of Operations, Patient Information Forum
Richard Stephens – Consumer Lead and Chair of Consumer Forum, National Cancer Research Institute
David Montgomery – Vice President, Science Exchange, Oncology, Pfizer.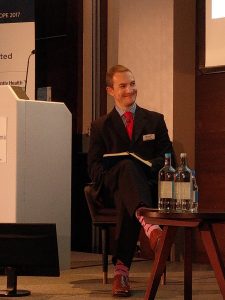 During a lively discussion the panel explored the benefits and challenges to all sides of taking a truly patient-centric approach to collaboration between the pharmaceutical industry, patient organizations and patients, and of introducing initiatives to help to make such collaboration achievable.
Colleagues from our Patient Engagement Practice were on hand to showcase our latest innovative, collaborative, patient-centric projects and to explain how they embody our four core principles of co-creation: listen, learn, implement and repeat.
As well as looking back at the achievements of the past year, the Patient Engagement team were looking to the future and continuing the drive to build together for effective outcomes. During the event they invited attendees to complete a questionnaire with the aim of deepening their understanding of the kind of patient communication activities that patient organizations, charities and the pharmaceutical industry have experience of and are interested in. The results of the survey will help our Patient Engagement Practice to explore the landscape of patient engagement from the perspectives of both the pharmaceutical industry and the patient. Watch this space!
Responses to the co-creation panel
"I really enjoyed being part of the panel session and having the opportunity to talk about co-creation/patient involvement – one of my favourite topics!"
Claire Murray, Joint Head of Operations, Patient Information Forum
Fantastic opening from @Richard_PharmaG – some conditions can't be measured – they're invisible. You need to speak to patients #efpPatients pic.twitter.com/Yi3XDv0m90

— Simon Stones (@SimonRStones) October 20, 2017