Oxford PharmaGenesis Basel office expansion featured in Director magazine
The experie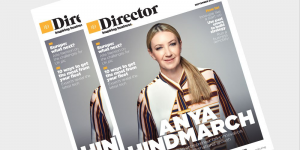 nce and insights of Oxford PharmaGenesis into founding its office in Basel are highlighted in a feature in the September issue of Director magazine (the publication of the UK Institute of Directors).
The feature focuses on UK company expansion into Switzerland and includes quotes from an interview with Dr Richard White, Commercial Director of Oxford PharmaGenesis and a member of the Institute of Directors. Continue reading
Oxford PharmaGenesis celebratesJeans for Genes Day 2015
[vc_row][vc_column width="1/1″][vc_column_text]Today, employees at Oxford PharmaGenesis wore their jeans to support Jeans for Genes Day, helping to raise vital funds for children and families affected by genetic disorders.
A 'Bling my Jeans' competition was held, which was adjudicated while staff enjoyed a delicious 'all you can eat' breakfast buffet. Continue reading
Oxford PharmaGenesis raises money for VICTA (Visually Impaired Children Taking Action) at Prudential RideLondon-Surrey 100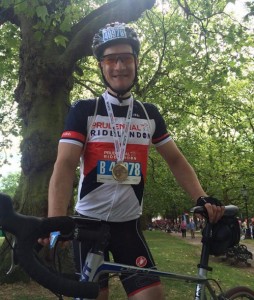 Commercial Director of Oxford PharmaGenesis, Richard White, has completed the Prudential RideLondon-Surrey 100 cycle race to raise funds for VICTA (Visually Impaired Children Taking Action), a charity that supports blind and partially sighted children in the UK. Oxford PharmaGenesis matches donations raised by employees in events that support health-related causes. Continue reading
Oxford PharmaGenesis goes to Buckingham Palace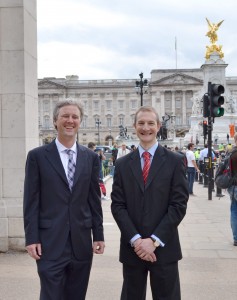 Managing Director Chris Winchester and Commercial Director Richard White are proud to have represented Oxford PharmaGenesis as a winner of the Queen's Awards for Enterprise 2015 at a reception at Buckingham Palace last night.
The reception, hosted by the Queen and the Duke of Edinburgh, was attended by the Duke of York, Princess Eugenie of York, the Princess Royal, the Duke of Gloucester, the Duke of Kent, Princess Michael of Kent and Princess Alexandra as well as the other winners of this year's Awards.
Chris Winchester says, "It has been a great honour to meet the Queen and other members of the Royal Family and to celebrate the achievements of all 139 companies who have won the Queen's Awards 2015."
Richard White comments, "It is exciting to see other bioscience companies – including some based in Oxford, such as Zinc Ahead and Isis Innovation – represented in the Queen's Awards this year. This is great news for our sector."
Chris and Richard will be attending the UK Trade and Investment South East's lunch for Queen's Awards winners later today.