We were busy at last month's European Medical Writers Association Conference in Birmingham, UK. Chris Winchester, our Managing Director, led an Expert Seminar Series workshop, a Joint Position Statement launch seminar and presented a poster. He also made regular appearances at our exhibition stand to talk about all things Oxford PharmaGenesis.
The conference, which attracts a large number of regulatory professionals, took place in the International Convention Centre in Birmingham in May.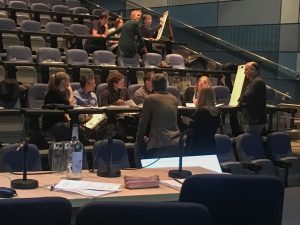 On Day 2 of the conference, Chris Winchester facilitated an engaging and well-attended workshop entitled, Improving quality and maximizing value: professional medical writers and the publications process. Following an introductory re-examination of recent appraisal received by our industry, delegates were given the opportunity to critically evaluate three key publications that form the evidence base for the value of professional medical writing, as presented in the AMWA–EMWA–ISMPP Joint Position Statement. This activity was followed by an idea-generation session, in which delegates were able to apply their learnings and design new studies to improve the reputation of professional medical writing. All in all, it was a very interactive session in which conference delegates learned the importance of communicating about the work of our profession and, in return, provided useful insights for the future of our industry.
Following on from the workshop, the AMWA–EMWA–ISMPP Joint Position Statement was launched. Chris Winchester and Art Gertel addressed a busy lecture theatre and explained the origins, development and outcomes of the statement and what the future holds. The full document can be accessed here.