We were busy at the International Society for Pharmacoeconomics and Outcomes Research (ISPOR) Annual European Congress in Glasgow last month. Richard White, our Commercial Director, and members of our Value Demonstration Practice were located at our exhibition stand to talk about all things Oxford PharmaGenesis. The conference was an excellent opportunity to reconnect with clients and former colleagues, and to catch up on the latest topics in health economics and outcomes research (HEOR) and market access. Richard also presented a poster entitled Reporting of the use of research and publication guidelines in health economic and outcomes research publications in inflammatory bowel disease – a systematic review, which received a lot of interest!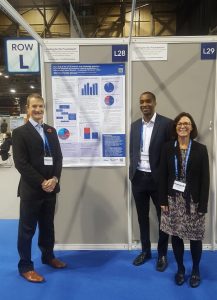 The conference, which attracts a large number of policy-makers, consultants, payers and patient representative groups, took place in the Scottish Event Campus in Glasgow, UK, in November.
Many of the sessions at this year's conference focused on pricing and reimbursement. One key theme was the differing perceptions of value between stakeholder groups and how regulatory and health technology assessment (HTA) decision-making processes can take into account these differences. The second plenary session highlighted differences in HTA between countries and discussed the cost-effectiveness of different approaches. The need to align decision-making processes and facilitate information sharing and collaboration in Europe is becoming increasingly apparent; an issue that the European Network for Health Technology Assessment (EUnetHTA) aims to address. The use of real-world evidence in healthcare decision-making was also highlighted, with notable dialogue between the pharmaceutical industry and HTA stakeholders. In fact, incorporation of the patient voice and real-world evidence in healthcare decision-making varies between countries and HTAs; these differences were compared and contrasted throughout several sessions. Poster sessions included fascinating new research on various topics including disease-specific studies, medical devices and diagnostics, healthcare use and policy, and study methods.
ISPOR continues to raise the profile and standard of HEOR and real-world data, and plays a vital role in the collaboration of HEOR experts, healthcare decision-makers and the pharmaceutical industry. We at Oxford PharmaGenesis are delighted to have had the opportunity to take part in this year's conference.