Over 60 members of staff from an Oxford-based international HealthScience communications consultancy are walking 1 million steps over 3 months in an effort to raise funds for leading charity Diabetes UK.
Diabetes UK's 1 Million Step Challenge takes place between 1 July and 30 September, and invites people to push themselves out of their comfort zone, by taking 1 million steps over 3 months and getting sponsored for every stride.
Over 60 people are taking part across six Oxford PharmaGenesis offices in the UK, Basel and Philadelphia, with additional support from family and friends.
They each need to put in at least 11 000 steps a day to reach their million over the 3 months – that's roughly the equivalent of 5 miles per day. The team has set a £3000 fundraising target, with matched funding from the company, which they hope to smash.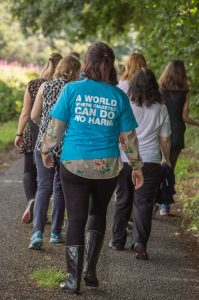 Dr Chris Winchester, Managing Director of Oxford PharmaGenesis, said: "Diabetes is a health problem that matters to us professionally and personally, and we are proud to make a difference to the lives of the 4.5 million people living with the disease across the UK, and the many millions around the world. The team enthusiasm has been amazing, and I'm enjoying taking part."
Ellie Collins, Marketing Coordinator at Oxford PharmaGenesis, said: "As a company, we wanted to support Diabetes UK and help to improve the lives of people with diabetes. When all of our steps are added together as a group, we are actually doing an incredible 60 million steps! The challenge is a fun way to get fit in our lunch breaks or after work. Desk jobs can mean you don't get the daily exercise you need, so this challenge is really a great idea."
Jess D'Arcy, Diabetes UK Fundraising Events Manager, said: "It's great to hear that the 1 Million Step Challenge is going global and people from as far away as Philly are now getting involved! People can walk it, jog it or dance it! There is so much choice about how people can achieve 1 million steps. We're really grateful to the staff at the company for joining #TeamDUK to raise vital funds to help people living with diabetes. Every penny raised will help us to support the millions of people living with diabetes in the UK."
"You can take on the challenge alone, or better still, get your family, friends and colleagues involved. You can even split the million steps between a team to make it easier."
If you would like to take part, email events.fundraising@diabetes.org.uk or visit https://www.diabetes.org.uk/million-step
If you would like to sponsor their challenge, visit https://www.justgiving.com/fundraising/oxfordpharmagenesissummerstep-up?utm_content=buffer4b3c1