The Oxford PharmaGenesis team was proud to participate in and support 'Surfing the Waves', the inaugural West Coast meeting of the International Society for Medical Publication Professionals (ISMPP), which took place on 11–12 October 2018, in San Diego, CA, USA.
There were over 100 attendees at the event, including numerous representatives of local small and mid-sized biotechnology companies; for many, this was their first-ever ISMPP meeting.
Several workshops took place beforehand, including 'Digital Advances and Publication Planning', co-facilitated by Tom Rees, Communications Director at Oxford PharmaGenesis. Tom explored concepts related to the strategic planning of enhanced publications, as well as the role of social media and new metrics in the digital ecosystem.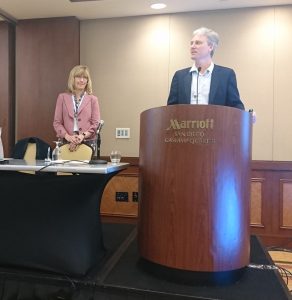 The meeting itself was jointly opened by Chris Winchester, CEO of Oxford PharmaGenesis and Chair of the ISMPP Board of Trustees, and the Immediate Past Chair Juli Clark, former Executive Director of the Department of Global Publications at Amgen.
During the meeting, several topics were addressed, with a special focus on the challenges faced by smaller companies. These included discussions on how to set up a publications function and a publications tracking system, how to efficiently deliver a publication plan on a constrained budget and questions about outsourcing. There was a great deal of discussion prompted by some insightful new research into what medical communications are most valued by healthcare practitioners!
In her highly energetic keynote talk, the science communicator Melissa Marshall showed how to create truly impactful presentations. Her comment that "great passion, great content and a clear understanding of your audience are key to delivering a great event" could easily be applied to this outstanding first meeting of ISMPP West.