Oxford PharmaGenesis is proud to have been a finalist for the prestigious 2023 Communiqué Leadership Award for Action on Workforce Diversity and Inclusion. The awards ceremony took place on Thursday 6 July at the Dorchester Hotel, London, UK.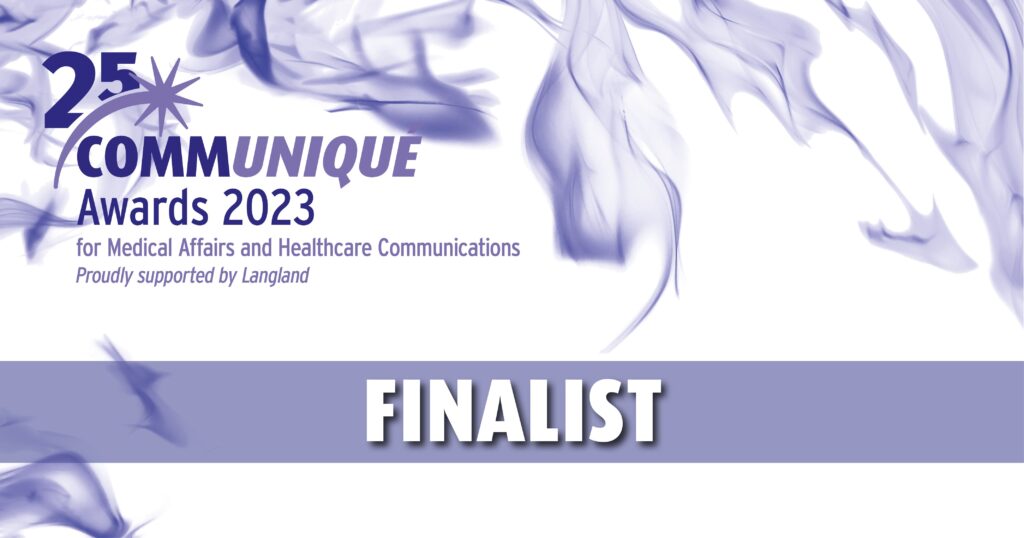 Now in their 25th year, the Communiqué Awards celebrate excellence within the healthcare communications industry in the UK and Europe. Oxford PharmaGenesis was in the running for the Leadership Award for Action on Workforce Diversity and Inclusion, as well as for an award in the 'Excellence in Medical Affairs – Transformation' category.
Our nomination as a finalist for the Leadership Award for Action on Workforce Diversity and Inclusion recognizes a wide range of equality, diversity and inclusion (EDI) initiatives run by Oxford PharmaGenesis that are continuing to have a positive impact on our company and the wider sector.
EDI: driving internal and external change
In 2020, Oxford PharmaGenesis formalized its commitment to EDI through the appointment of Jill Wund (Executive Director, Americas [interim]) as Global EDI Lead and the establishment of an oversight committee, which includes key company leaders Chris Winchester (CEO) and Sharon Frost (Global HR Director) as Board representatives.
We launched an EDI section within the company intranet, sharing key external resources with colleagues such as guidelines for the reporting of race and ethnicity in medical and science journals, as well as educational videos.
We also partnered with the external consultancy Transforming Words on employee engagement projects, including EDI surveys and a listening exercise. It was through this listening exercise that employees requested that we use our leadership position in our industry to promote EDI externally, with a particular focus on race and ethnicity.
Our colleagues have gone on to learn about EDI and advanced the cause through industry-related events and groups, including the International Society for Medical Publication Professionals, the PM Society Diversity, Equity and Inclusion Interest Group, Friends of the National Library of Medicine, MedComms Networking and the Center for Information and Study on Clinical Research Participation.
How our work in EDI has shaped our business
Our employee communications plan now includes monthly internal educational pieces on EDI themes that encompass all legally protected categories based on the regions in which Oxford PharmaGenesis has offices.
We have expanded the number of client projects related to EDI: most notably, we performed a literature review with Genomics England on defining diversity in genomic research, and collaborated with patient advocates for HIV to develop inclusive language guidelines for non-binary and transgender people.
We have also taken steps to improve the attraction of diverse talent, including partnering with DIVERSE.
Walking the talk
Global EDI Lead Jill Wund says: "Our business is built on relationships – from colleagues to clients to patients. And the best work we produce happens when we can bring out the best in each other. Our work to establish a framework addressing EDI is a natural continuation of the Oxford PharmaGenesis philosophy, and we're thrilled that our efforts to 'walk the talk' have been recognized as finalists for this Communiqué Award!"
CEO Chris Winchester says: "Our goal is to keep seeing improvements through the results of our annual EDI survey, which helps us to understand employee opinions about inclusion at Oxford PharmaGenesis. This employee-driven approach is already showing great results, and we look forward to continuing this important work."
In our annual employee engagement surveys, more than 93% of respondents feel they are treated fairly regardless of age, race or ethnic origin, gender and sexual orientation.
Oxford PharmaGenesis is proud to sponsor a doctoral scholarship on diversity in medicine at the Nuffield Department of Primary Care Health Sciences and Green Templeton College, University of Oxford, UK. We have also funded the salary of an employee at African Hospital Libraries to support their work in providing medical resources to hospitals in Sierra Leone.
Interested in working for a mission-focused company that is driving EDI initiatives to bring about real change? Browse our opportunities and get in touch!