Congratulations to Oxford PharmaGenesis colleagues who were named Medical Affairs Communications Team of the Year at the PharmaTimes gala dinner and awards ceremony on Thursday 16 November!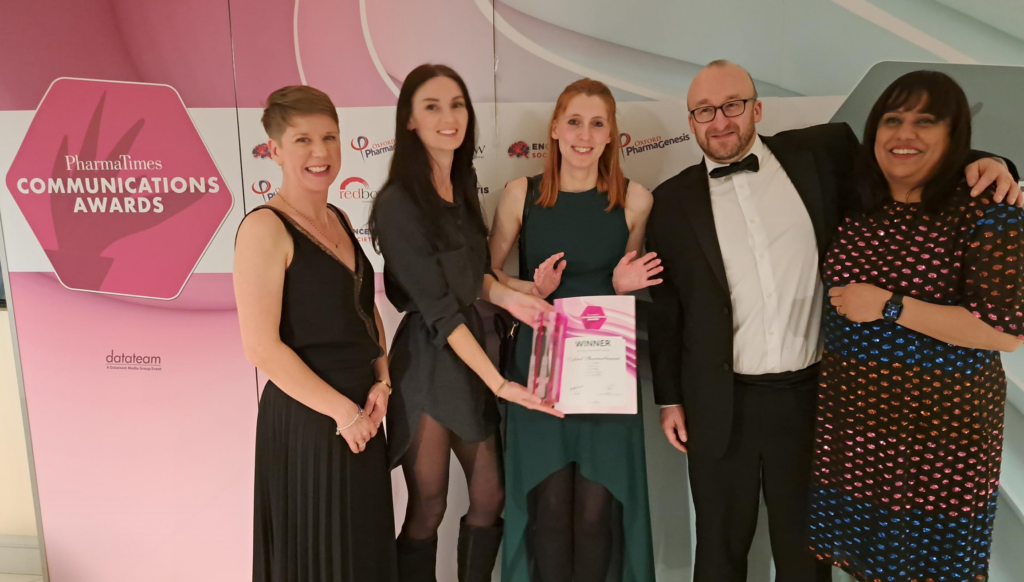 The award recognizes success in a unique annual PharmaTimes competition, which took place this year on Thursday 5 October, when participating teams tackled an intense challenge to prepare a response to a communications brief from a fictional pharmaceutical brand.
The winning team from Oxford PharmaGenesis comprised Senior Medical Writer Amber Tear, Director of Innovation Martin Callaghan, Senior Account Manager Narinder Chaggar, Communications Consultant Vicky Sanders and Communications Team Leader Katie Pillidge.
The competition gave them the opportunity to showcase their strong Medical Affairs communications skills, scientific understanding, leadership, collaborative approach and experience in developing and delivering scientific communications programmes.
A unique competition
The PharmaTimes Medical Affairs Communications Team of the Year competition requires no pre-work or written submission. The written brief that's given to teams brings together input from a steering group comprising Medical Affairs professionals from the pharma industry and agencies, to ensure it accurately reflects genuine communications challenges.
In-house, agency or combined teams then have just two hours to prepare a response before presenting their proposals, via video link, to a judging panel who act as 'clients'. Judges score each submission according to a set of criteria, and at the end of the event, decide on the winner.
Judges provide extensive feedback on the presentations to all finalists, ensuring it's a useful learning experience as well as a challenging and enjoyable opportunity.
The winning presentation
In response to the fictional brief, the team's winning presentation Bringing EncephaspecTM to the forefront of diagnostics fully assessed an existing communications strategy's strengths and weaknesses. It detailed an overall strategic plan, outlining goals, audiences and settings.
The team recommended targeting three different audiences (payers, emergency care physicians and clinical leaders) and identified appropriate tactics and channels for reaching these stakeholders. Importantly, the presentation also outlined a budget!
A deep understanding of Medical Affairs
Oxford PharmaGenesis Strategic Marketing Director Brian McMunn was on this year's PharmaTimes judging panel – although to avoid a conflict of interest, he did not judge this particular competition. Brian says: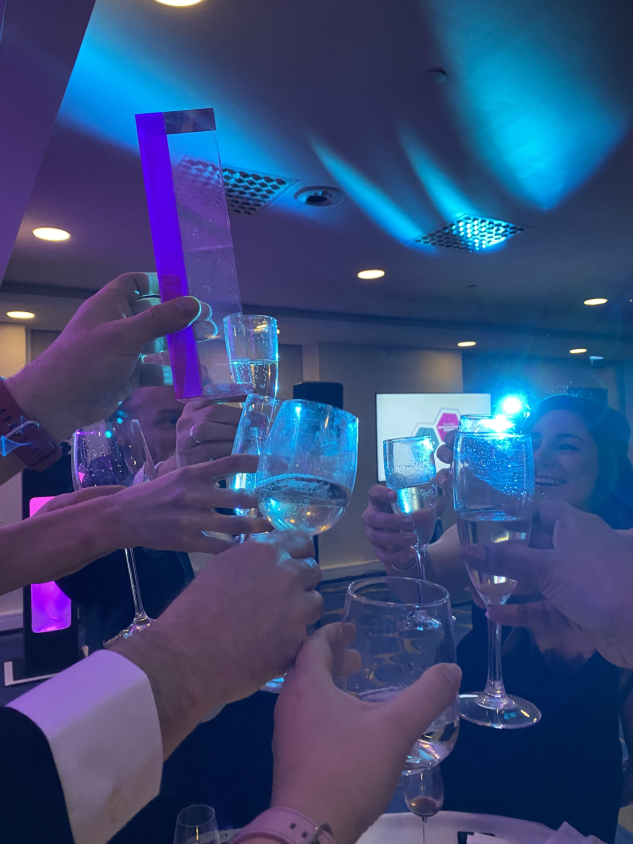 "The Team of the Year Awards is a fun team-building exercise for participants and gives them an opportunity to show what they're made of. Although it can be stressful, the fact that many teams return to compete year after year shows that it's an enjoyable experience overall!
"This year's judging panel agreed that the Oxford PharmaGenesis team ably demonstrated their expertise. They showed a deep understanding of the audiences for their communications, and were able to identify and prioritize key scientific and strategic insights. They developed workable scientific communications, and demonstrated how they would mitigate risk and stay compliant. Our company is incredibly proud of our award-winning team!"
Oxford PharmaGenesis is an award-winning Medical Affairs consultancy, positively influencing our clients' careers, teams and organizations. Our dedicated Medical Affairs consultants are supported by a range of specialist delivery teams, together providing unparalleled thinking and the best of consultancy culture.
We are opinion leaders in the medical affairs industry, and have won a Communiqué award for 'Medical Affairs agency of the year'.
Learn more here and get in touch to chat about how our award-winning colleagues can help with your Medical Affairs Communications needs!