We were honoured on Friday as King Charles III's representative in Oxfordshire, Lord-Lieutenant Marjorie Glasgow BEM, presented our HealthScience Communications Consultancy with a 2023 King's Award at our head office just outside Oxford, UK.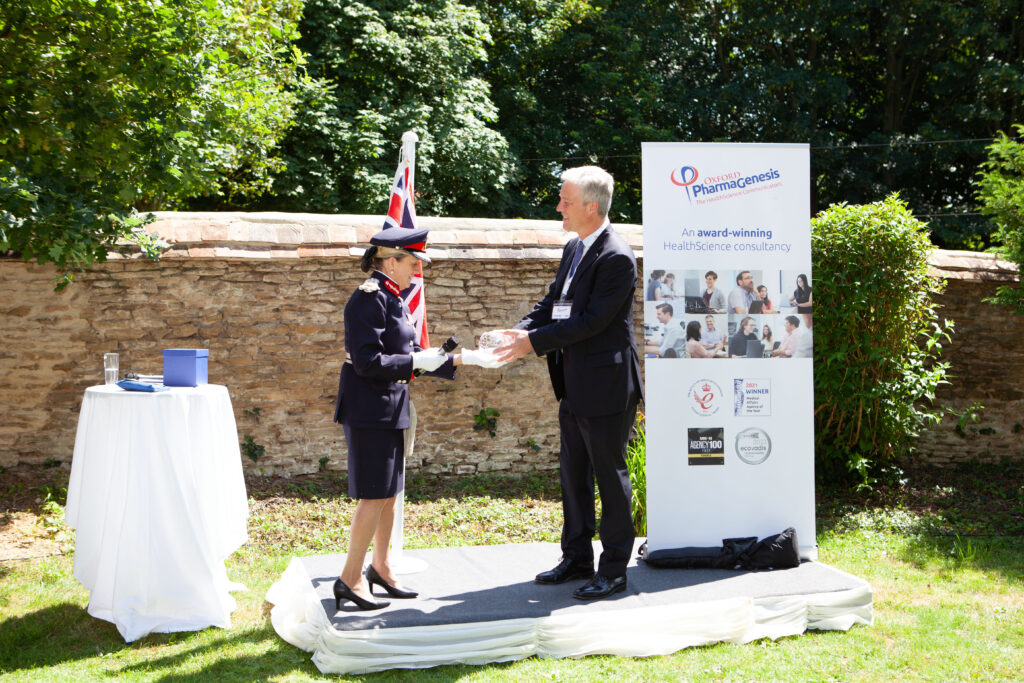 The King's Award is the most prestigious business accolade in the UK and is a continuation of the Queen's Award first established in 1965. The King personally approves the list of award recipients, which this year recognizes just 148 companies. For Oxford PharmaGenesis, this completes a remarkable hat-trick, having secured the Queen's Award for Enterprise in 2015 and in 2019.
We're proud to work with outstanding clients who are core to our continued growth and success.
Delivering for clients; opening doors
The King's Award recognize our excellence in international trade. We have doubled our exports roughly every 5 years since our foundation, with around 75% of our HealthScience Communications Consultancy's work with clients in mainland Europe, North America and Asia-Pacific.
Our CEO, Dr Chris Winchester said "This prestigious award recognizes the company's growth in overseas revenue and profitability. Our unique culture brings out the best in our brilliant and talented team, who continue to develop and grow here with us, thanks to the opportunities we offer and our recognition as a 'Great Place to Work'.
We already work with nine of the world's 10 largest pharmaceutical companies and, based on our experience after securing similar recognition from the late Queen, we expect this award to open doors to many new relationships. Energized by this new recognition, we are pressing on with our mission of helping clients bring new treatments to patients with unmet clinical needs".
Investing in sustainability
Our COO, Dr Richard White said "The growth that this award recognizes has enabled us to invest in building a long-term sustainable future for the company, in developing innovative new services and expanding our environmental, social and governance activities (ESG).
"The King's Award emblem will stand alongside the silver medal for ESG that we recently received from EcoVadis, the leading global ratings platform. We are committed to working with our loyal clients, partners and suppliers to deliver innovation and sustainability, partnering with charities, academic institutions and patient groups whenever possible".
A virtuous circle
Company founder and Chairman, Dr Graham Shelton said "We're thrilled to receive a King's Award in the year we are celebrating both the King's coronation and the company's 25th anniversary. It was a particular joy for me to attend a reception for King's Award winners hosted by King Charles III at Buckingham Palace just last month.
Since launching Oxford PharmaGenesis in Oxford, UK, I have been proud of the virtuous circle that has seen talented people delivering high-quality services to our clients, resulting in sustained growth. We value our independent status, which helps us build trust between clients and colleagues, all of whom share our passion for providing better treatments to patients throughout the world".
Ongoing international growth
Launching with one employee in 1998, we have grown to become the leading independent HealthScience consultancy, providing communications services to the healthcare industry, professional societies and patient groups in the UK and globally.
Over the last decade alone, our overseas sales have risen from £5.2 million to £29.5 million. Over the same period, the number of full-time colleagues has risen from 83 in 2013 to more than 500 today across the UK, USA, Europe and Australia.
Our top five markets are currently the USA (37% of total sales), UK (23%), Switzerland (22%), Denmark (3%) and Sweden (3%).