Oxford PharmaGenesis attends TIPPA East 2019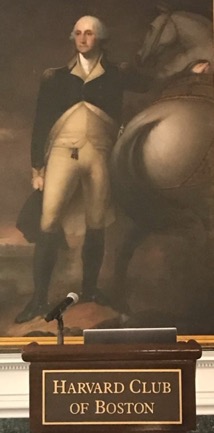 Both the Oxford PharmaGenesis US (Brian Falcone and Jake Willet) and UK (Eric Southam and Richard White) offices were represented at The International Publication Planning Meeting (TIPPA) East, in Boston on 24–25 June 2019. This was the first TIPPA meeting to be held on the east coast and it took place in the historic Harvard Club. Surrounded by the ghosts of presidents past, it was more than a little off-putting to present under the stern gaze of George Washington (especially for visitors from the UK)!
The theme of increasing engagement with science communications trended throughout the meeting. In the opening presentation, Olle Bergmann (https://www.ollebergman.se/) discussed the importance of passion and the use of professional communicators in engaging audiences. In their presentation (subtitled Pimp My Publication), Richard and Brian advocated the use of enhancements to increase the reach of, further engagement with, and drive the real-world impact of publications. This topic was returned to in a round-table discussion chaired by Jamie Weiss (Novartis), which brainstormed options for publication enhancements.
Among other highlights, Charlotte Singh (Novo Nordisk) reminded delegates that narrative reviews can still have a place in the publication plan, Renu Juneja (Janssen) emphasized that publications trigger medical communication campaigns, Douglas Wicks and Barbara Kravitz (GSK) discussed how to manage publications in the context of alliance partnerships, and John Smith (independent consultant) recommended that publications be considered as early as clinical trial protocol development. A second round-table (chaired by Payal Patel, Genmab) discussed possible solutions to the challenges associated with publication planning in small organizations with limited budgets. Last, but hopefully not least, Eric Southam and Fran Young (Takeda) presented the results of a survey demonstrating that, for the most part, external authors value the contributions their industry co-authors make to scientific publications.