Oxford PharmaGenesis is celebrating Rare Disease Day, which aims to raise awareness of rare diseases and their impact on patients' lives. As part of our support for this important initiative, we asked everyone in the company what they really wanted to know about rare diseases – here are the most common questions and what our experts said in reply. #RareDiseaseDay #ShowYourRare
How many people in the world do we think have a rare disease?
This question doesn't have a clear-cut answer. Rare diseases can be very difficult for doctors to recognize – it's not unusual for a patient with a rare disease to remain undiagnosed for more than 10 years. There are likely to be far more patients with rare diseases than we're aware of; there will also  be some diseases that haven't yet been recognized.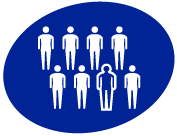 The best estimate is that there are at least 6000 and maybe even as many as 8000 distinct rare diseases collectively affecting 350 million people worldwide. To put this into context, this is approximately 6–8% of the world population, 27–36 million people in the EU, about 25 million in North America and 1 in 17 of the UK population. Hence, even if you don't have a rare disease, it is likely you know someone who does though you may not be aware of their diagnosis.
What is being done to develop treatments for rare diseases?
When very few patients have a disease, it is extremely difficult, or even impossible, to undertake a clinical trial, because large numbers of patients are usually needed. In addition, because we often know very little about the characteristics and progression of a rare disease, designing an appropriate clinical study can be challenging. Signs and symptoms can vary considerably in patients with the same disease, thereby adding to the complexity. Furthermore, novel drugs are often expensive to develop and companies need to recover these high costs from just a small number of prescriptions. Fortunately, there are now public policies and specific procedures in place in many countries that encourage development of treatments for rare diseases.
What do these policies do to facilitate development of new therapies for rare diseases? First, there are some financial incentives, such as subsidies and tax benefits that include credits towards research and development costs, and other incentives such as waived fees with regulatory authorities. Also available are enhanced market exclusivity (7 years in the USA and 10 years in the EU) and accelerated approval processes. Orphan drug legislation makes it more likely that appropriate clinical studies can be performed, taking into consideration the challenges described above. The statistical burden is reduced and there is flexibility on how the study is designed.
These approaches have made a huge difference to the availability of new treatments. Between 1973 and 1983, fewer than 10 orphan drugs supported by the pharmaceutical industry came to market. In contrast, since 1983 (when the US Orphan Drug legislation came into force), more than 400 drugs and biologic products for rare diseases have been developed and marketed.
What is the future for rare diseases?
Although tremendous progress has been made in raising awareness of the unmet needs and in enabling development of new treatments for patients with rare diseases, there remains a key healthcare challenge. For all sorts of reasons, patients are often unable to access readily the care that they need, even when treatments have been approved. This may be because the patients have to travel a long distance to see appropriate specialists, or perhaps the high cost of treatment limits access.
Continued efforts are needed if rare diseases are to remain a priority and to achieve the multi-stakeholder collaboration and commitment required to drive the research, innovation and policies that will ensure patients have access to diagnosis, treatment. The importance of increasing our clinical and epidemiological knowledge of rare diseases and the role that this plays in designing and implementing successful clinical studies has been recognized across the community, including by the US Food and Drug Administration in its recently updated guidance for orphan drug development.
In the future, it is likely that we will see an increase in innovative study designs, supported by an evolution in regulatory guidance to enable approval of these approaches. We look forward to seeing a higher level of incorporation of the perspectives of patients and their families into the drug development process, aided by organizations such as EURORDIS as well as by patient advocacy groups. Improved approaches to demonstrating the value of new therapies are also vital; Improved approaches to demonstrating the value of new therapies are also vital so that informed decisions are made regarding appropriate patient access to care.
In addition, technological advances are being made that will benefit patients with rare diseases. Gene therapy approaches are starting to reach fruition, and hopefully mark the beginning of an era of increased focus on personalized medicine. New and improved technologies are also leading to earlier diagnosis of rare diseases, for example through enhanced newborn screening programmes.
These are exciting times in the rare diseases community. We look forward to further innovations and collaborations prompted by the unique challenges in this area, and to the continuing progress towards patients receiving the care that they need.