Oxford PharmaGenesis, the leading independent HealthScience communications consultancy, is proud to have been highly commended for the Communiqué Medical Education Consultancy of the Year award this evening at Grosvenor House, A JW Marriott Hotel in London.
Chris Winchester, CEO of Oxford PharmaGenesis, said: "We didn't win, but this significant recognition from our peers in medical communications recognizes our industry leadership and our role in making a difference in the world: for patients, for our clients and for our employees."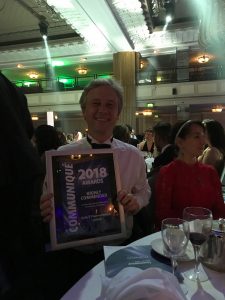 "This year, we not only celebrated our 20th birthday as an independent company, but we also grew by some 35% to over 220 experienced and energetic experts in Oxford, London, Cardiff, Basel, Melbourne and Philadelphia," said Chris. "As a result, we can bring a global perspective to local challenges, and we are particularly proud of our award-winning HealthScience approach to demonstrating evidence-based pharmaceutical value for all our stakeholders. Our motto is 'Powerful thinking, dedicated to your success' and we live and breathe this every day to bring superlative personal service to every one of our clients."
"A lot of people talk about leadership, but for us, actions speak louder than words," emphasized Richard White, COO. "Leadership means inspiring others, and for the second year running we have been the only company in our category to be named by the London Stock Exchange Group as one of the Top 1000 Companies to Inspire Britain. It means leading the growth in our industry by serving our clients, and again for the second year running we have been named in the Pharma Fast 50 list of fastest growing independent companies in the pharma sector. It means supporting our employees, and we are proud to have been named as a 'Great Place to Work' in the USA; following the values set in our Conceptual Framework, we are well on the way to repeating that success in the UK. It means maintaining very low staff turnover, reflecting the success of our Be the Best employee training initiative and the real sense among our teams that together we can make a difference to patients' lives. It also means partnering with more than 25 patient organizations in our pharma and policy work, as well as in pro bono activities, which we support as a company," said Richard.
"During the last year," continued CEO Chris Winchester, "we have engaged with a wide range of stakeholders, including industry critics, leading the Open Pharma drive towards fast and transparent publication of clinical trial data. I have been honoured to become Chairman of ISMPP, the International Society for Medical Publication Professionals, and our COO, Richard White, has continued to chair TIPPA, The International Publication Planning Association. Meanwhile, our teams have been busy contributing to leading international opinion formers, such as the International Society for Pharmacoeconomics and Outcomes Research, and the World Orphan Drug Congress.
Company Founder and Chairman Graham Shelton concluded: "Our success has come from choosing the best people and enabling them to dedicate themselves to working for our clients with the core aim that we all share: to make a difference in the world by bringing evidence-based treatments to patients in areas of unmet medical need."