Oxford PharmaGenesis, Oxford Health Policy Forum and MS Australia are celebrating the shortlisting of MS Brain Health for a PRIME Award for Sustained Excellence, and are incredibly proud to have been highly commended at the award ceremony. The awards took place in Sydney, Australia, on Thursday 9 November 2023.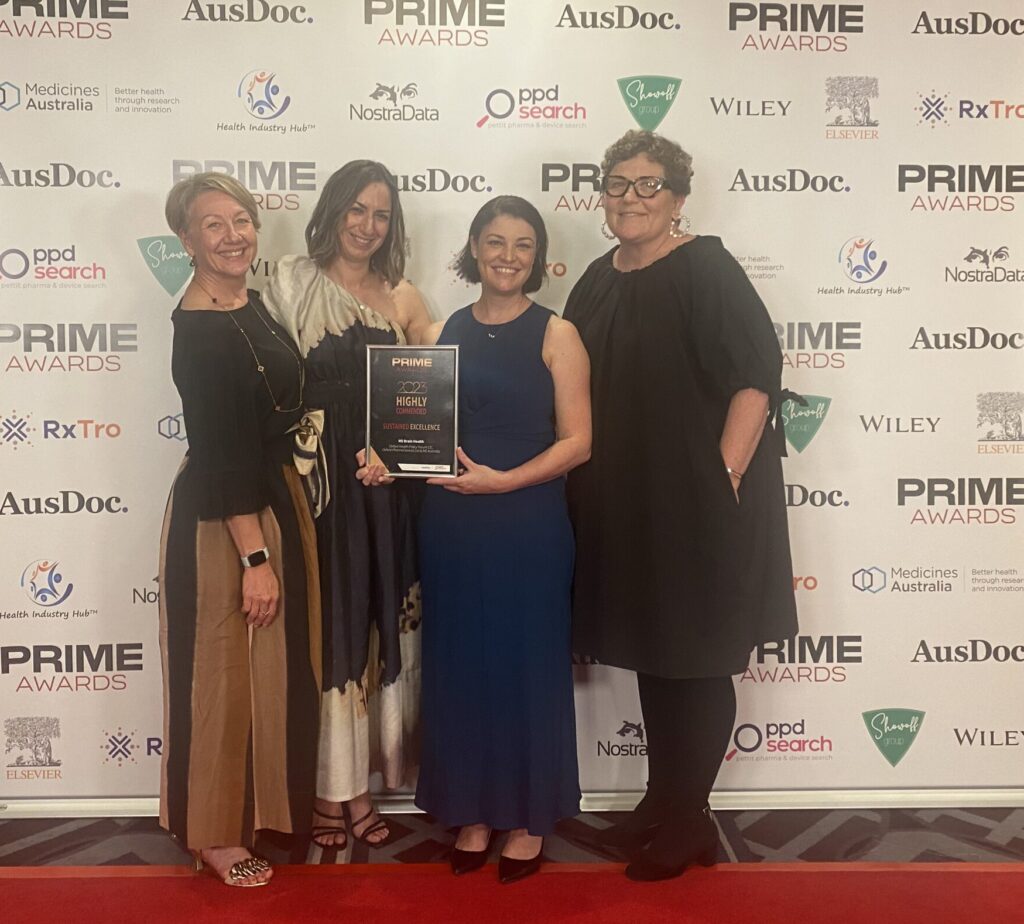 The PRIME Awards recognize and celebrate excellence within healthcare communications and the Australian pharmaceutical and life sciences industry. The shortlisting of MS Brain Health for an award recognizes the impact of the policy recommendations and resources for people living with multiple sclerosis (MS) made by the widely endorsed initiative.
Transformative patient engagement
MS Brain Health, an initiative from Oxford Health Policy Forum, was the initial idea of Professor Gavin Giovannoni, and was turned into reality by Oxford PharmaGenesis.
Following the publication of the MS Brain Health policy report in 2015, we embarked on an initiative to drive the adoption of a therapeutic strategy to maximize the lifelong brain health of people with MS.
We developed educational resources for people with MS to help empower them to take positive steps to keep their brains as healthy as possible and also to help them request the highest possible standards of care.
A 2020 survey and reports from local champions illustrated how MS Brain Health has changed the way that leading MS experts view best practice in MS care and has promoted clinical practice changes in 16 countries.
Improving MS care in Australia
MS is an incurable chronic disease affecting more than 25 600 people in Australia. Before the MS Brain Health initiative, there were no national or international quality standards for timely MS care and there was a lack of guidance in Australia on how individuals can maximize their lifelong brain health.
MS Australia, winner of the 2022 MS Brain Health Patient Organization Award, has integrated MS Brain Health recommendations into all its activities.
Local champions throughout Australia have helped to change the MS landscape by implementing the recommendations from MS Brain Health. Local champions of the initiative's management approach have also widely distributed MS Brain Health resources, helping people with MS in Australia to live a better life with the disease.
Oxford PharmaGenesis Communications Consultant Emily Stock said, "We're incredibly proud to be highly commended for this award for the MS Brain Health initiative! It's been inspiring to work with Oxford Health Policy Forum and MS Australia, and fantastic to see the very real transformation that the initiative, its endorsers and champions are having on MS care by promoting best practice and meaningful patient engagement."
"Thank you to our Australian Steering Committee members and all our champions and supporters in Australia for your outstanding work for all those living with MS."
MS Brain Health in numbers
MS Brain Health has gained endorsement from more than 50 organizations representing MS neurologists, nurses, health economists and patients.
MS Brain Health has 450 champions from > 65 countries.
Working closely with affected individuals, we've produced a brain health guide for people with MS that has been translated into more than 20 languages, demonstrating its value.
The MS Brain Health report has been widely accessed and, as of November 2023, has 106 citations in journal articles.
83% of healthcare professionals who responded to the 2020 impact survey reported that they/others in their organization had made service changes based on MS Brain Health recommendations/standards.
In 2022, MS Brain Health was a finalist for Communiqué 'Excellence' and PMEA 'Excellence' Awards.
Learn more about MS Brain Health by visiting our website and following MS Brain Health on X and on LinkedIn.