DPhil student, Dr Amy Booth (University of Oxford) and Oxford PharmaGenesis CEO, Dr Chris Winchester, have co-authored a new study published in the International Journal of Environmental Research and Public Health this month, revealing the climate change targets of the 20 leading global pharmaceutical companies – and how they are reporting on and reducing their greenhouse gas (GHG) emissions.
Pharmaceutical companies contribute significantly to health sector-related emissions.The new study is understood to be the first to examine the climate change targets and emission reduction strategies of leading pharmaceutical companies and the first to analyse one of the major health system suppliers in this context.
Led by University of Oxford DPhil student, Dr Amy Booth (Green Templeton College; Nuffield Department of Primary Care Health Sciences), in collaboration with Oxford PharmaGenesis, the study reveals the results of an analysis of publicly available 2020/2021 reports (e.g. annual reports) from the 20 largest pharmaceutical companies (in terms of annual revenue).
Favourable reductions – but more supply chain engagement needed
All 20 companies measure and report their emissions using The Greenhouse Gas Protocol Corporate Accounting and Reporting Standard (GHG Protocol). The companies showed largely favourable reductions in GHG emissions from owned or controlled sources (Scope 1) and emissions from purchased energy (Scope 2) through strategies including increasing renewable energy use, optimising energy efficiency or switching to an electric vehicle fleet.
However, results in the reporting and reduction of supply chain (Scope 3) emissions were variable. Just 11 (55%) of the companies included all 15 GHG Protocol categories for reporting on supply chain emissions. Three only included business travel or flights in their reporting, and six companies did not report on supply chain emissions at all.
A call for collaboration
Dr Booth said "The contribution of pharmaceutical companies to health sector emissions urgently needs addressing, so it's encouraging to see companies in our study setting climate change targets and reporting on their emissions according to international standards. Time is short and companies need to focus on their supply chain emissions, where better reporting and innovative solutions are needed".
Study co-author Dr Winchester said "As a 500-strong HealthScience communications consultancy serving the pharmaceutical industry, we wanted to help understand the commitments that companies are making and the actions they need from suppliers like us to meet their goals. When, through our shared membership of Green Templeton College at the University of Oxford, Sara and Amy approached me for advice, I jumped at the chance. The research we undertook has informed our company's investment in this area, starting with understanding our carbon footprint and signing up to the Science-Based Targets initiative (SBTi) and joining the Sustainable Medicines Partnership. We are very proud that these efforts have been recognized with a silver medal for sustainability from EcoVadis".
Dr Booth's supervisor, Professor Sara Shaw, is Professor of Health Policy & Practice at Nuffield Department of Primary Care Health Sciences, University of Oxford. Professor Shaw said "While significant action is urgently needed to address climate change, including in the healthcare sector, it's not always easy to know what action is being taken, or where to target more. Our study was significant in mapping out work already being done by the big pharmaceutical firms, and highlighting the gaps, while setting out a call for action for much more. It's one small part of a programme of research in this field, in which collaborations such as that with Oxford PharmaGenesis are critical to generating evidence and supporting action."
Dr Booth added that more research on this topic can be expected to be shared soon.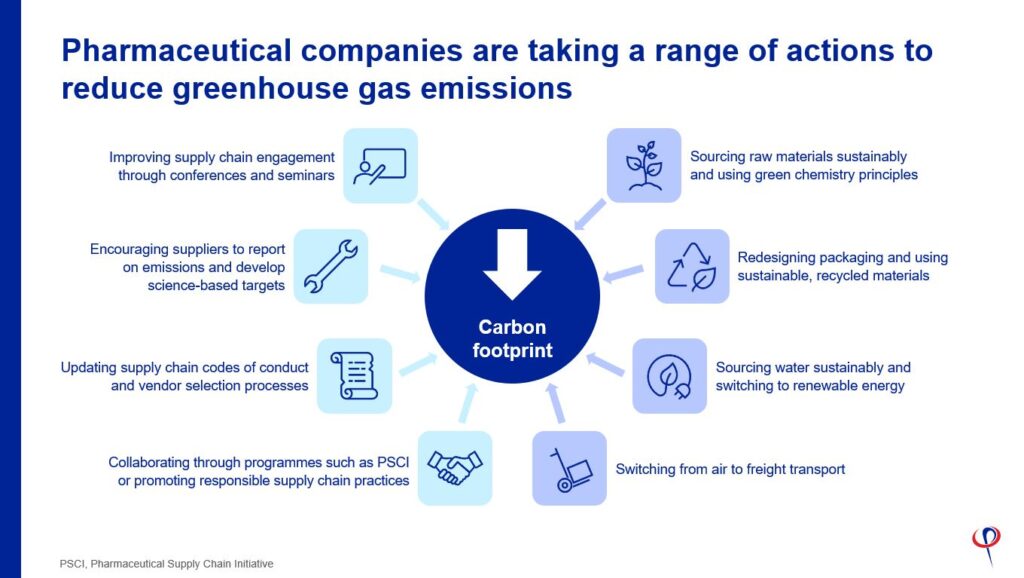 For more information, contact:
Dr Chris Winchester
chris.winchester@pharmagenesis.com
+44 1865 390144
Dr Amy Booth