ISMPP Asia-Pacific joins the push for open science in pharma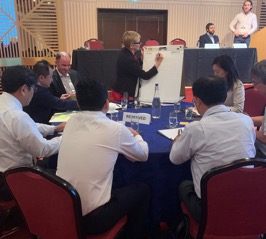 Oxford PharmaGenesis was in Tokyo to see 'open science' take centre stage at the 2019 Asia-Pacific Meeting of ISMPP
Oxford PharmaGenesis was proud to support the Asia-Pacific Meeting of the International Society for Medical Publication Professionals (ISMPP), which took place on 6 September 2019, in Tokyo, Japan. There was a total of 140 attendees, including representatives from medical communications agencies, pharmaceutical companies and publishing companies.
The keynote address was delivered by Rintaro Mori, Regional Adviser for the United Nations Population Fund. His presentation, and indeed the theme for the meeting, was to encourage 'open science', whether that be through transparent peer-review processes, the development of plain language summaries or utilizing technology to make content accessible to the public. The open science presentation aligned with the principles of Open Pharma, a key collaborator with ISMPP, with a focus on adapting global publications guidelines for the Asia-Pacific region. One such adaptation comes in the form of multilingual good publication practice guidelines. Further to this, regional ISMPP leaders have developed practical guidelines for improving publication practices in the Asia-Pacific region, which account for cultural differences and expectations with the aim of improving publication quality and uptake by publications worldwide.
Another notable presentation, chaired by Managing Director of Havas Health Takemoto Aya Tokaji, focused on the opportunities and risks associated with the incorporation of technology in publishing. Pharmaceutical companies are increasingly shedding 'traditional' communication styles in favour of digital formats, ensuring accessibility and longevity of material. As such, publication professionals must embrace existing technologies to remain competitive within the industry. We must also be sensitive to change, ready to adapt to advances in communication style that best resonate with each new generation of healthcare professionals and society in general.
Patient centricity is a commonly used phrase in the healthcare industry, but, as emphasised by advocate Yujin Yamamoto during the session entitled 'Nothing About Me Without Me', patients still struggle to be heard in both clinical and research settings. This is particularly true of cultures and regions where the traditional doctor–patient relationship predominates. Publications professionals can encourage the shift towards patient-driven healthcare through the development of high-quality, standardised, plain-language summaries that are peer-reviewed by patients. In doing so, we hope to improve health literacy for patients as they engage with their healthcare professionals, industry and government.
Our HealthScience approach to integrated communications means that we are well placed to support the changing face of 'open science' in the Asia-Pacific region. We look forward to seeing the innovations to come!