Oxford PharmaGenesis has been recognized as one of the London Stock Exchange Group's 1000 Companies to Inspire Britain for the second year running. The report identifies the fastest‑growing and most dynamic small- and medium-sized businesses across the UK and Europe. Oxford PharmaGenesis has been included in this list alongside Oxford BioMedica, Immunocore, BrewDog and Time Out, and was one of the select companies to attend the event.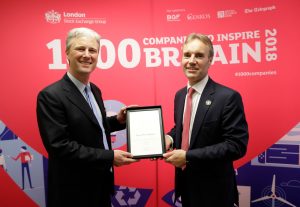 "We warmly congratulate all of the companies identified in this year's '1000 Companies to Inspire Britain' report," said Nikhil Rathi, Chief Executive Officer (CEO) of the London Stock Exchange Group. "Five years on, the report continues to demonstrate the strength and diversity of British businesses across the country. These dynamic companies are the backbone of our economy, playing an important role in the UK's ability to innovate, export and grow. This report is a significant part of London Stock Exchange Group's broader campaign to support UK high-growth companies. We are committed to championing British businesses and Britain's dynamic entrepreneurial spirit."
Rt Honourable MP Philip Hammond emphasized, "Businesses listed in this report have the ability to think outside the box, willingness to take risk, to challenge the status quo, an ambition to grow and to scale up, and a determination to deliver high-quality products and services and succeed in an increasingly fast-paced and competitive marketplace."
Oxford PharmaGenesis covers the full range of pharmaceutical communication needs, from health economic assessments to policy recommendations, and from scientific publications to social media. Recent achievements include supporting clients in delivering scientific symposia in South America, running masterclasses in the Middle East, reporting research in Russia and publishing articles in Africa, as well as completing projects in Japan and China.
Dr Chris Winchester, CEO of Oxford PharmaGenesis commented, "We are proud to be recognized for a second year as a company to inspire Britain and thank our clients and colleagues for making this possible over the past 20 years."
To watch the full interview with Chris, please see the below video: