Virtual 17th Annual Meeting of ISMPP

ISMPP is a fantastic opportunity to share best practice and connect with people who share our vision for what medical publications and communications can achieve.
Chris Winchester, CEO

A preprint pandemic: the evolving role of preprint servers in the COVID-19 era & Preprint debate - to preprint or not?
April 12, 2021, 12:00 PM - 1:00 PM - Tim Koder
Open Access: Making the future bright, making the future open
Chris Winchester
Equity and Excellence
April 13, 2021, 10:00 AM - 10:45 AM EST, 3:00 PM - 3:45 PM BST - Jill Wund
Equity, Diversity, and Inclusion: Defining a roadmap for our profession
April 13, 2021, 11:00 AM-11:30 AM EST - 4:00 PM - 4:30 PM BST - Jill Wund and Chris Winchester
How to succeed in cross-collaboration: the SCARF model for Medical Affairs
April 13, 2021, 4:00 PM - 4:45 PM - Richard White
Artificial intelligence in drug development: what do we need to know?
April 13, 2021, 2:00 PM - 3:00 PM - Carly Sellick
Powering insight generation; practical application of new AI tools to mine the scientific literature
April 13, 2021, 4:00 PM - 4:45 PM - Carly Sellick
Digital Advances and Publication Planning: Current Practices and Future Directions
Workshop - April 21, 3:00 PM-4:30 PM EST - 8:00 PM-9:30 PM BST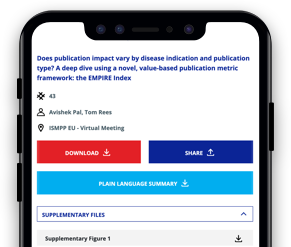 QRdb, from Oxford PharmaGenesis, is a secure, adaptable, online content management system designed to deliver electronic versions of congress posters/presentations alongside their supplementary information, such as plain language summaries, podcasts, videos/animations, and other media. It can be run as a fully managed service by us, by you and/or your agencies without our involvement, or with additional support and training.
What makes us an award-winning HealthScience communications consultancy?
Our services are transformative: we're experts in publications, medical affairs, informatics and patient engagement. Our people are extraordinary: we help clients to bring new treatments to the world in areas of unmet medical need. Our vision is powerful: we're shaping the future through transparent and accessible research.